How can Captiva Human Resources (HR) automation help your enterprise?

People are the backbone of any enterprise, be it the new recruits all the way up to executive management.  And, for many enterprises, managing the personal information and company documents relating to each and every worker can be a frustrating and burdensome process.  Paper-based payroll, reports, and personal data can pile up, get lost, and misfiled.  Multiply this by thousands or tens of thousands for large, distributed enterprises.  It's important for human resources departments to find accurate information fast and at times this can be next to impossible when papers go missing or aren't organized in a logical way.  That's where PaperFree and the Intelligent Capture solution come in - Intelligent Capture works to efficiently scan, recognize, and digitize all of your human resources documents both for short term conversion and long term efficiency.  With this system in place you'll enjoy paperless human resources management enterprise-wide and no need for expensive document storage that can be lost in disasters or whose data can be stolen.
Intelligent Capture's ability to recognize and digitize all types of data is ideal for human resources departments - there is no need to reformat your document templates or manually enter personal correspondence - it can handle images, structured, semi-structured, and unstructured data with top accuracy rates.  Or, if your enterprise is using an old, expensive HR solution and you've found roadblocks to upgrading we've got you covered with the InfoArchive application retirement and data conversion solution.
And, with an added content management system such as ApplicationXtender or Documentum, from PaperFree, your HR department will enjoy faster lookup of information, intelligent links to related data, customizable workflows, and allover gains in efficiency in what they can accomplish in a work day.  Sensitive employee data is safe in secure repositories with configurable access levels for users, while all the while still being easily accessible for those who need it.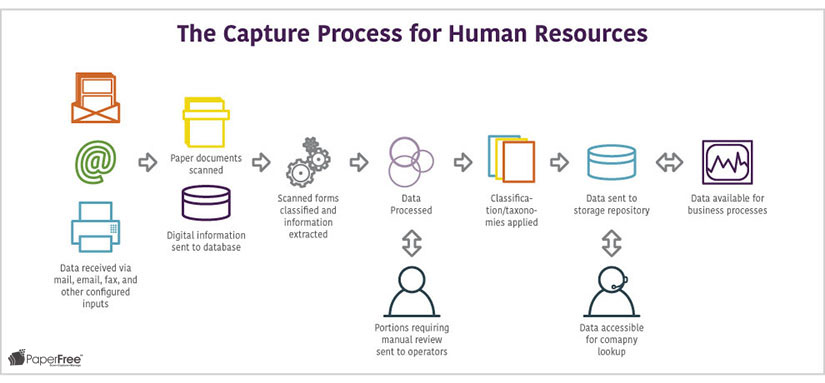 How does it work?
The first step of a human resources capture workflow is to gather data to process.  This can be in the form of paper archives, or new information can arrive by mail, email inboxes, faxes, or other configured electronic inputs.
Next, data is introduced into the Intelligent Capture system by scanning paper documents or importing electronic files into a processing queue.
Once documents exist as digital images in the queue, their information is analyzed and business-critical information such as names, hire dates, and salary data are extracted and digitized according to configured templates.
This digital information is then exported to a customized workflow where it is processed and is routed to the appropriate operators if needed.  All of this happens automatically, and once manual steps (such as a management approval) are completed the document continues on to its next step with no additional action required on the operator's part.
Once document processing is complete, the scanned invoice image as well as the information about its transaction are exported to a storage repository.  Here, it can be stored for compliance or can be easily pulled up by operators for customer service, management, or training needs.
Key Benefits to Automating Human Resources Processing
End-to-end management – Integrate all key processes, from receipt and approval to archiving and auditing—and provide complete visibility into the entire process.
Control and compliance – Retain and archive documents in compliance with government and company policies.
Elimination of paper storage – Eliminate the need for physical paper storage—digitize all documents and take advantage of records retention and storage capabilities.
Let PaperFree evaluate your enterprise's Human Resources needs and learn just how quickly you can be fully automated and processing documents faster and easier than ever before.