Many enterprises are faced with the challenging task of processing paper application or enrollment forms, and these forms pose a significant burden from the time it takes to physically manage them to the time it takes to manually enter their information.  And what happens when a page of an application goes missing?  Or when a data entry operator mistypes a critical value?
These common problems have led PaperFree to develop innovative solutions to manage your application processing needs.  With a simple scan or import from a number of configurable inputs, application data can be extracted and processed by powerful enterprise content mangagement systems that automatically run workflows, check form requirements, and populate this usuable data into an intuitive and user-friendly system.  Accurate character recognition reduces troublesome typos and once the data is scanned, it cannot be lost, misfiled, or damaged.  An added benefit to our application processing systems is that data can be distributed to the appropriate parties, automatically, based on what type of data it is.  Workflows are custom built for your process that are optimized for efficiency, and mutiple users can even work on the same information which speeds up the application approval process.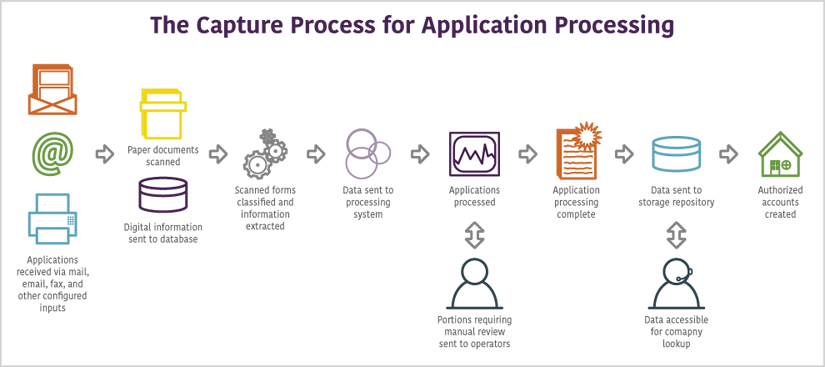 You're also covered if your enterprise falls under regulatory oversight - records and reports can be called up quickly and easily, and there is no need for expensive paper storage or manually searching through mountains of filing boxes.  Do you also have a need to process application fees paid by check alongside applications?  PaperFree Check | Remittance solutions can process those payments automatically, without the check ever leaving your premises.
PaperFree's Application Processing Solutions enable your enterprise to quickly process your paper-based applications with the highest levels of accuracy and efficiency - to find out how we can help you please give us a call today.