Financial and insurance companies have long found themselves burdened by mountains of paperwork - forms, contracts, audits, case management files and so on.  These various documents often require the use of different software which complicates the process even more.  The ability to manage this information while managing costs, legal requirements, and pressure from stockholders is becoming an increasing challenge given the variety of information formats and the new ways to create it.
PaperFree offers a solution in the Documetum content management platform from OpenText that allows you to leverage this information to power your company's processes.  As the foundation on which successful business data management is built, Documetum allows your organization to capture paper data and digitize it into useful, efficient data that can power your enterprise. From collaborating on business documents to delivering case-based applications to managing highly precise processes in most regulated business environments, PaperFree offers an effective solution for your business.
PaperFree offers a variety of powerful tools to enable your operation to store data in one central, streamlined repository while enabling users in all areas of your enterprise to access the information they need quickly, which saves time, expense, and improves your customers' experience.  Having all necessary information with the click of a button can also help mitigate risk, facilitate business decisions, and also more easily work through the process of mergers and consolidations.  Taxonomies and built-in workflows are also included to enhance the access of information by cross-linking information and allowing quick searches. Effective permission configurations keep information available to only those who are allowed to see it. And, it's scalable and administration is simplified.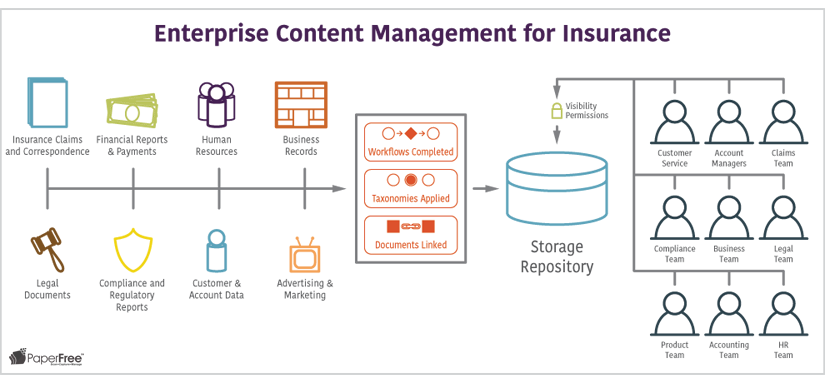 By making information quick and easy to access, the process of retrieving and processing information for customers will be improved.  With content management solutions from PaperFree, loan documents don't go missing and the powerful workflow capabilities ensure that no steps are skipped in the application process.  Customers will also enjoy faster answers to their questions, less problems with paperwork, and service without hiccups.
Insurance one of the most highly regulated industries today - government, state, and medical regulations are only a few of the standards that they must adhere to.  The extensive data-storing abilities of a content management systems ease this burden by enabling your organization to maintain accurate, comprehensive reports for regulatory review.  Powerful workflows assist in making sure that no steps are missed in the process and that all of the correct assets are available.  And, documentation for legal cases can be easily organized and reviewed by only those with permission to do so.
Among one of the most complex and confusing processes an organization will undergo is a merger or acquisition.  The consolidation of workforces, physical assets, intellectual property, and business processes is an intensive undertaking.  By organizing your information with an enterprise content management solution, you can track the process of specific steps, who has them, and where they will go next.  PaperFree's backfile conversion solutions also allow you to digitize old, paper information to make it more easily available for review by regulators and workers.  By streamlining the process of a merger or acquisition, this solution saves money, time, and the headaches involved.
Enterprise information capture and management solutions from PaperFree empower your enterprise to put its data to work for you – reducing costs, time searching for information, and increasing the power of your business information. To learn more about how PaperFree can employ these solutions in your organization, please give us a call today.