How can PaperFree help you automate your Accounts Receivable Process?

Streamline your Accounts Receivable process - from receipt of payments through processing and archiving - with advanced information capture solutions from PaperFree.  Today's leading Accounts Receivable processing solutions enable you to scan, classify, and index paper documents as well as capture electronic invoices. Processors, approvers, and managers save time and improve accuracy with tools such as queue-based workflow and automatic notifications—and complete integration with enterprise resource planning (ERP) and line of business (LOB) systems. The result: you speed the process of archiving and retaining invoices and supporting documents while ensuring compliance with both government and company policies.

In addition, PaperFree offers DepositCritical, an advanced check processing solution that enables your enterprise to process payments inline with other documents. And, Check21 processing clears checks in house so you can eliminate expensive lockbox services and losing access to your documents while they are processed. Visit DepositCritical to learn more.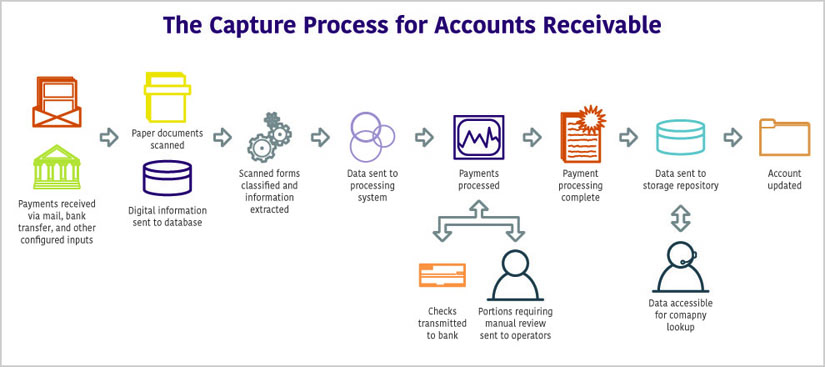 Key Benefits
End-to-end management – Integrate all key processes, from receipt and approval to archiving and auditing—and provide complete visibility into the entire process.
Control and compliance – Retain and archive documents in compliance with government and company policies.
Streamlined work – Provide users with a streamlined user interface that offers seamless integration between data from ERP or LOB systems and full views of all supporting documentation.
Vendor responsiveness – Quickly retrieve up-to-date, accurate vendor information, and respond promptly to vendor inquiries.
Elimination of paper storage – Eliminate the need for physical paper storage—digitize all documents and take advantage of records retention and storage capabilities.
Let PaperFree evaluate your enterprise's Accounts Receivable needs and learn just how quickly you can be fully automated and processing payables faster and easier than ever before.