Consumers have long been enticed by frequent shopper reward programs - points, coupons, member-only offers - you name it, and it is an effective method for building brand loyalty and repeat business.  Customers love these programs too - they like the saved money and directed product suggestions based on their shopping habits.  And, as technology advances these rewards programs rely more and more on digital information - which often begins as a paper enrollment form.  For large enterprises managing any number of sub-brands, organizing and utilizing all this information and improving the customer experience has become a top priority.  PaperFree offers solutions that support customer loyalty programs, from application processing all the way to maintaining customer profiles.  And, this is all done while managing the costs and labor necessary.
Key Benefits
End-to-end management – Integrate all key processes, from receipt and approval to archiving and auditing—and provide complete visibility into the entire process.
Control and compliance – Meet and retain compliance with government and company policies.
Streamlined work – Provide users with a streamlined user interface that offers seamless integration between data and full views of all supporting documentation.
Elimination of paper storage – Eliminate the need for costly physical document storage—digitize all documents and take advantage of records retention and and electronic storage capabilities.
How does it work?
The first step in a rewards program is enrollment.  For paper enrollment forms available to consumers in stores, PaperFree eases the process with powerful information capture solutions.  These systems scan, digitize, and recognize data and then feed it into a backend system for further processing.  These systems remove the need for most manual data entry - saving you time, errors, and allowing you to expedite the application process for your customers.  But what about online enrollment data?  That's covered too - once application data has been captured via scan or typed in by a consumer, it is put to work by a flexible content management solution.  These solutions manage your data digitally in one central location, allowing you to connect related information, distribute it to workers, and process multi-step functions with customizable workflows.  These workflows ease the hiccups as well - the work does not advance to the next step until all previous requirements have been completed, eliminating errors and last minute headaches.  Your data is also secure: information can only be accessed by workers with permission to do so and there is no need to maintain storage of paper documents.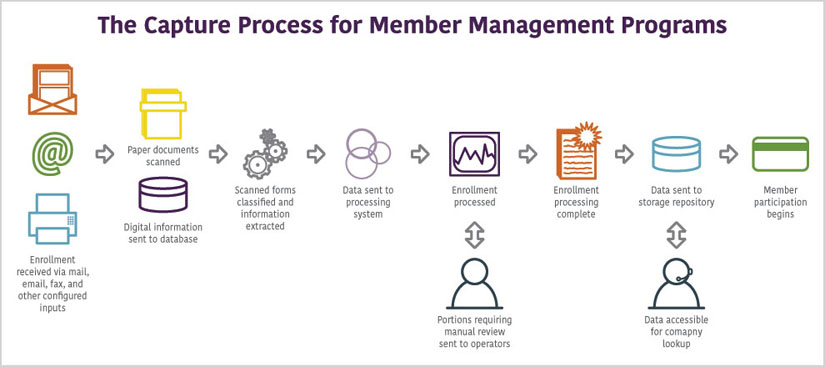 With PaperFree, enterprises can create and manage any number of programs; mainstream rewards programs, special campaigns, contests, and more.  Information capture and content management systems are an essential tool for member management operations to manage the application and approval process start to finish, and to also serve as a central repository for ongoing information relating to customers and the programs they are enrolled in.  To find out more about how we can help your member management programs streamline and advance, give us a call today.