How can Enterprise Content Management solutions help your legal or administrative workflow?

Paper and the legal system - a seemingly inseparable pair that causes significant daily challenges for those tasked with storing, managing, and accessing it.  The management of this information - contracts, agreements, legal filings, and more - is critical given the need for information on demand while insuring confidentiality and data security.  And, when courts or legal filings are involved even a single form can cause a lengthy and expensive headache.  As legal enterprises grow, merge, and change over time the demands from attorneys, clients, and their associated workforces put an even greater strain on manual paper processes.
Workers in administrative roles find themselves in very much the same position too - applications, files, notices, reports - the list goes on.  There truly is a need for powerful tools to make sense of the mountains of paper that legal and administrative organizations must cope with.
PaperFree offers a suite of powerful content management solutions designed to handle these paper burdens; smart capture products to scan and digitize information, repositories to process and store data, as well as add-on solutions to expand the capabilities of these systems.
How does it work?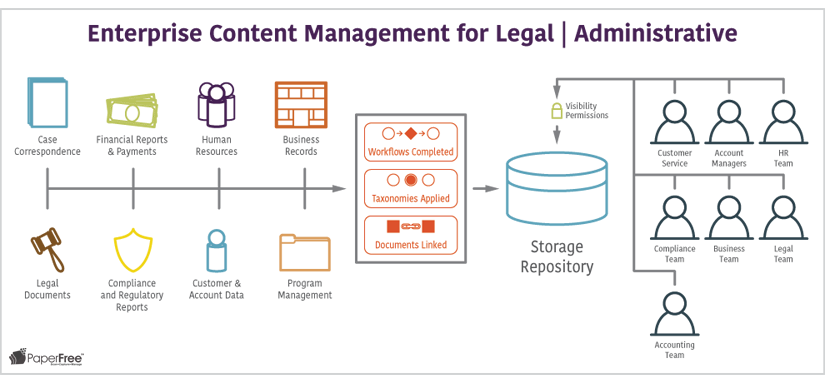 The process of enterprise content management for legal and administrative roles is relatively simple in concept.  Paper-based information (such as filings, client data, and more) is collected at the first point of contact and scanned into the system.  There, industry-leading capture solutions ingest and interpret the data against established rules and templates, quickly returning accurately digitized data that can be exported to a processing workflow.  Those workflows, customized for your individual enterprise, can handle any of a number of tasks automatically; accounts payable, manage client data, or even update case files.  In many cases they also link documents together, so all information relating to a case or a payment transaction are available together, without the need to search through endless folders.  Operators are only required to step in when there's a workflow exception or a step is designed to require approval, significantly speeding up the process from paper document to usable data.  Once those workflows are complete, the data is stored for easy later lookup by those with established permissions to do so.  
Though enterprise content management is simple in concept, it's much more complicated in execution.  That's why a trusted, experienced partner like PaperFree is your guide for how to maximize the functionality and economies of your content management system.  Contact us to learn more about how we can revolutionize your organization's data processes.
Information Management
With all of your paper-based data digitized, processed, and in a central repository, information is at your fingertips.  The addition of precise, customizable workflows also helps you process information more quickly and accurately, returning higher productivity and lower labor costs.  Enterprise content management is also an excellent tool for distributed organizations - data can be retrieved or uploaded from anywhere, which expands the capabilities of a workforce that may not always be in the office.  Plus, data is kept safe with customizable access permissions to make sure that only those with proper permissions have access.
Accounts Payable and Accounts Receivable
Our capture systems have an exceptional track record in processing invoices and payments, all without endless hours of manual data entry.  And, with the addition of DepositCritical your OpenText Captiva-based capture system can also process and clear check-based payments automatically using Check21 standards.  All elements to the transaction are also digitized and stored for easy reference and accounting later.
Backfile Conversion
Enterprises often are hesitant to dive into a fully digital ecosystem due to the immense number of paper documents they have in storage...and which must be brought into the system somehow.  Fortunately, our solutions easily handle this backfile conversion process from start to finish, leaving you with digitized, classified, and cross-referenced data from your archives.  Not only does this bring all of your content into a common, searchable ecosystem, it also eliminates the need for expensive storage facilities and hours of labor searching for a misfiled document.
Compliance and Data Security
Legal and administrative firms are no strangers to the law - and the need to maintain data that adheres to compliance standards is no exception.  With all documents safely indexed inside of a secure repository, maintaining important compliance documents as well as quickly retrieving them is easy.  And, by adding BlackMark+ redaction to your enterprise content management system you can add an additional layer of data security by removing sensitive information from documents.  This solution permanently redacts confidential data either automatically in the scanning process, or manually on an as-needed basis.
Customer Service and Customer Care Programs
One of the shining features of enterprise content management is how well it manages customer data.  Since information is automatically classified and linked upon entry in the system, all pertinent customer data is easily available for quick lookup by representatives.  Look up case details, contact information, payments, and more without ever leaving your workstation.
These exceptional customer service capabilities also extend to program management, such as customer care programs for fee-reduced or pro-bono arrangements.  Easily process, track, and approve applications and other pertinent information from start to finish.
---
Enterprise information capture and management solutions from PaperFree empower your enterprise to put its data to work for you – reducing costs, time searching for information, and increasing the power of your business information. To learn more about how PaperFree can employ these solutions in your organization, please give us a call today.